Venue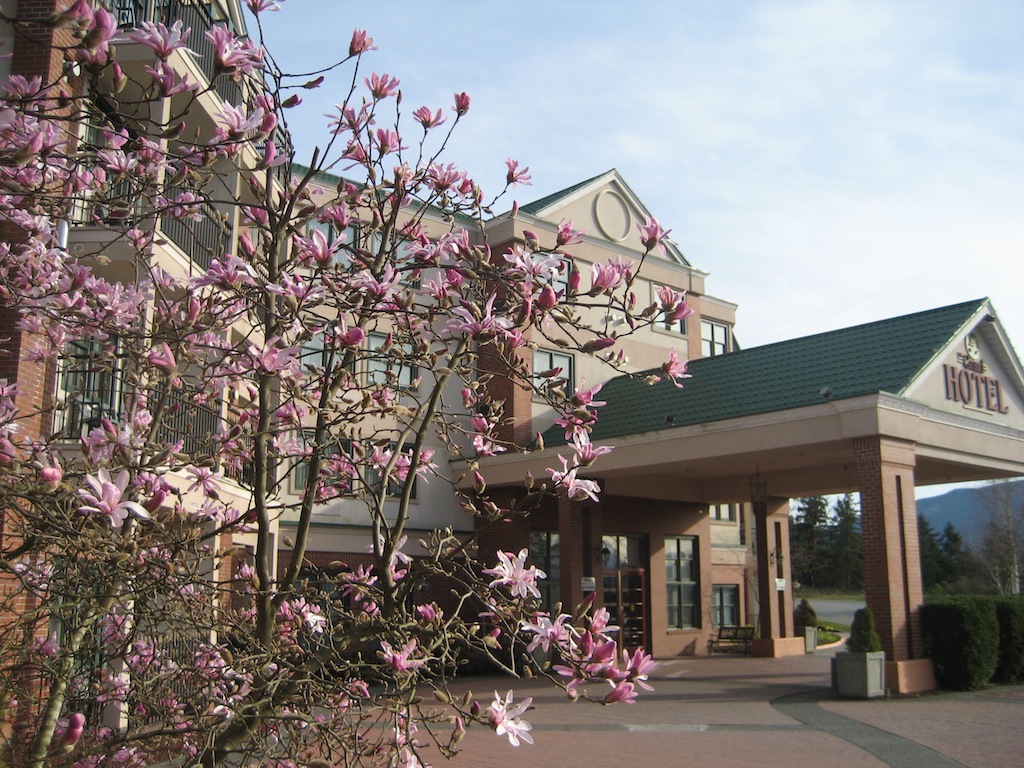 This year's gala event was held on Saturday, October 18th, at the Grand Hotel in Nanaimo.
Reception Area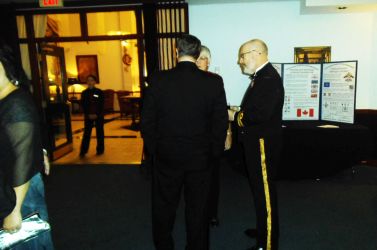 A few members and guests have arrived and mingle in the reception area. Here, Gary Mitchell is talking to Judy and Steve Cowan. Steve is standing in front of one of his handiworks, one of the branch's educational displays.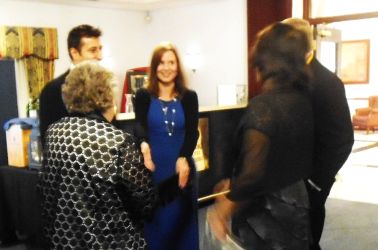 Lesley Patten is chatting with Sir John and Jennifer Cave-Browne-Cave, her aunt Lynn Patten, and her husband Talal Elarid.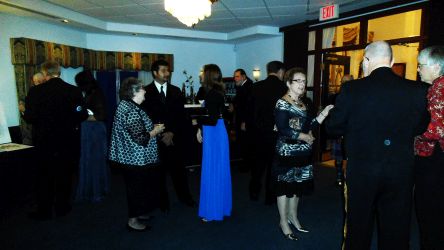 More members and guests have arrived and the room is filling.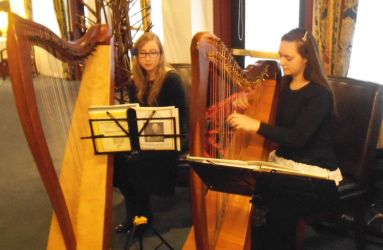 Off in the corner are two harpists doing their magic to create the perfect ambiance.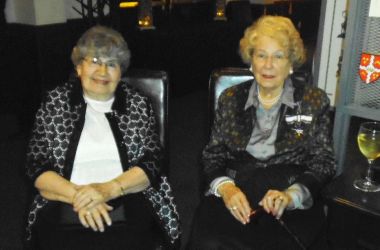 Lynn Patten and events director Shirley Greenwood relax.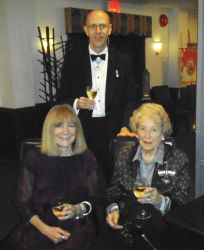 Shirley is joined by her daughter Amanda and branch president John Neill.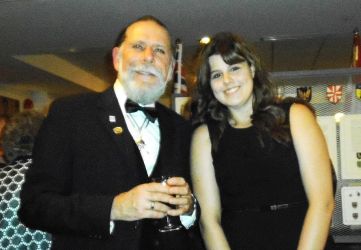 Tom Mercer and Courtney Harach pause from their conversation on working with stained glass.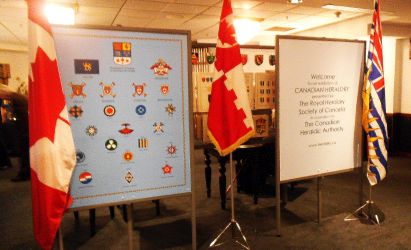 Parts of the Lawrence J. Patten Heraldry Display were transported from Government House and used as a divider between the reception and dining areas.
Dining Room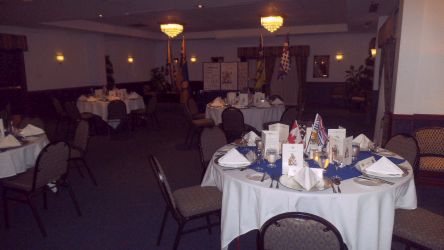 Dining tables are patiently waiting for the dinner to begin.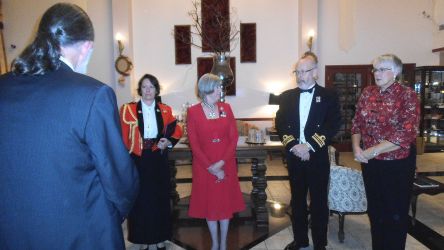 Her Honour Judith Guichon has arrived and is waiting to be piped into the dining room.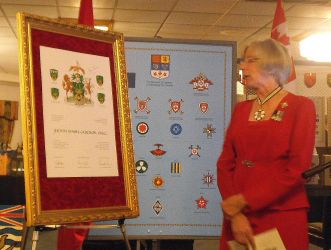 After being introduced by branch president John Neill, Her Honour begins a very interesting description of her arms, giving the background of each element.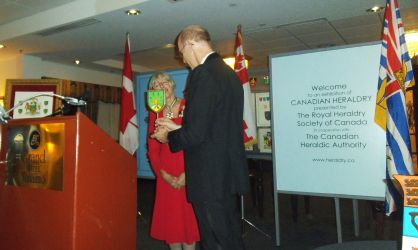 After her presentation, Her Honour receives a table shield of her arms from John Neill. She seemed well pleased by the gift.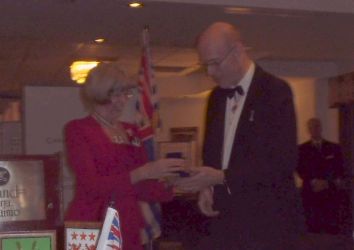 Turning the tables, Her Honour now gives a gift to John, a beautiful medallion with the BC arms on the obverse and her arms on the reverse, celebrating her acquisition of arms. Her Honour also gave a similar medallion to Robb Watt, Rideau Herald Emeritus. (The photo for that presentation came out even worse than this one and was unuseable. Sorry. - Webmaster)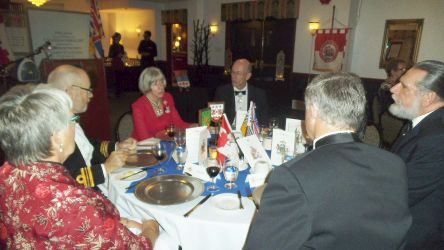 Her Honour is talking to other members of the head table.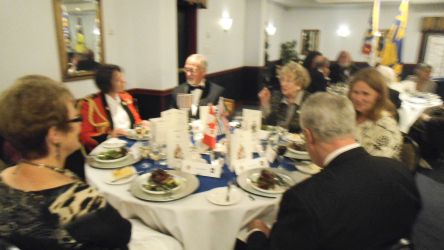 Members and guests at Table 2. Capt. Lacey was the Aide de Camp for Her Honour.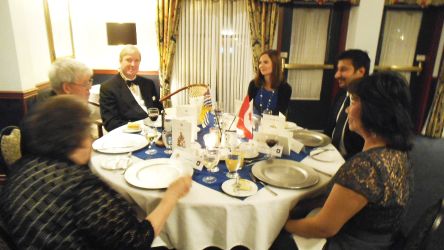 Members and guests at Table 3.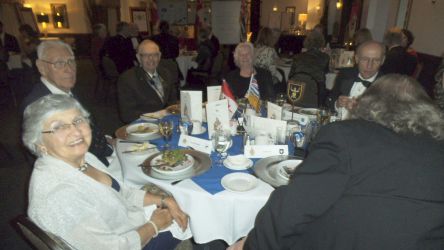 Members and guests at Table 4.



Members and guests at Table 5.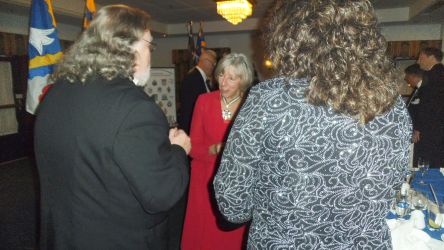 The lieutenant governor makes her rounds of goodbyes before she leaves.




Last updated October 30
th
, 2014.
Webmaster:
Lee Van Horne