Lunch at Government House
On Monday, June 18th, 2012, our patron, the Lieutenant Governor of British Columbia, Steven Point, OBC, invited the board to lunch at Government House to facilitate a presentation of a plaque depicting his coat of arms. Below is a photo summary of the day's events.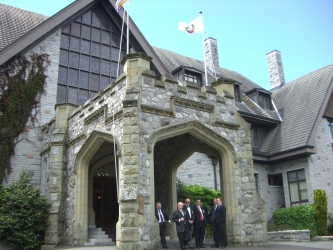 Board members assemble at the main entrance to Government House. Shown are Allan Ailo, Carl Larsen, Steve Cowan, Gary Mitchell, branch president John Neill, and Tom Mercer. Notice the Jubilee flag.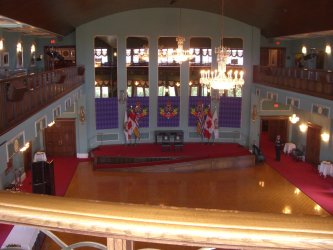 Before lunch, members took a tour of the upper level of the Ballroom. This view is looking down onto the Ballroom from the upper level.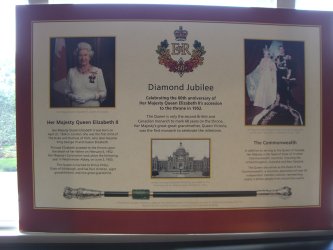 On the upper level, there is a Diamond Jubilee information poster, along with other displays.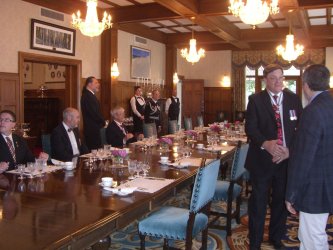 Members are sitting down at the dining table to wait for His Honour.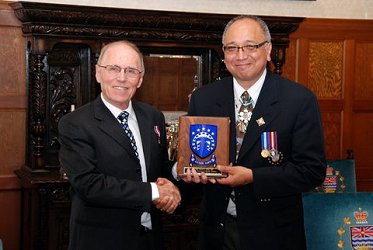 Past president Carl Larsen presents a plaque to His Honour that depicts the vice-regal's arms. Photo by Government House.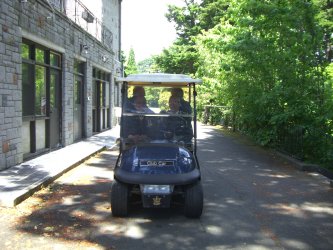 After an excellent lunch, the group heads to the mews to view the heraldic display that was set up last week in what used to be the stables. This photo shows His Honour in his new limousine, downsized due to government cutbacks, complete with chauffeur (Aide-de-Campe Jack Patten), and two footmen (Carl Larsen and Laurie Patten).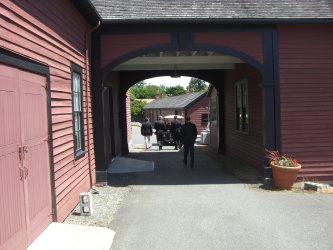 Entrance to the mews, where Laurie's heraldic display is located.
John Neill, well pleased with the day's events, steps out of the building that now holds the branch's heraldic display.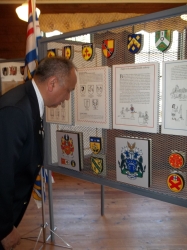 Inside the mews, His Honour studies his arms. Photo by Carl Larsen.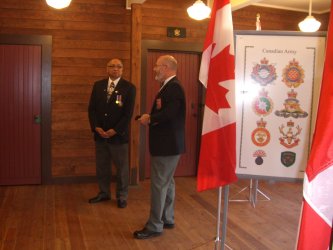 His Honour listens to heraldic wisdom from Steve Cowan, who contributed significantly to getting the heraldic display set up at Government House.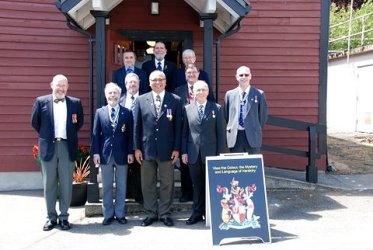 All paricipants of a very successful day congregate for a group photo. Photo by Government House.








Last updated July 10
th
, 2012.
Webmaster:
Lee Van Horne